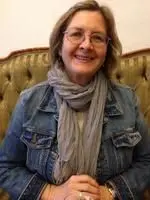 Over the years, as a psychotherapist and marriage counselor I have helped many individuals to heal from pain and loss, gain the confidence they needed, and enjoy their relationships.


Mira is a bilingual licensed therapist who holds a Masters Degree from Chapman University. Her training and clinical experience comes from working with individuals, couples, families, and children. In the past, Mira worked in different clinical settings, including: a mental health community clinic, public schools, battered women shelter, hospitals, and university mental health clinic. Currently she maintains private practices in Santa Ana, California and Mission Viejo, California.

Weather you are a couple or an individual, in sessions will work as a team and my approach is an active one, helping you understand the history behind the problem and to achieve your goals. I like to share with my clients the latest research/studies related to their issues, also the use of exercises will continue our sessions at home, and teach you the skills to become empowered.

Often the most difficult thing about therapy is to make the first contact by calling or emailing, but once you made the first step you got one step closer to the life you want to have.
Please fill out the contact form or call 714-651-7753 and I will respond within 24 hours.